by Lincoln Crisler
Print – Smashwords – Kindle – Nook – iBooks – Kobo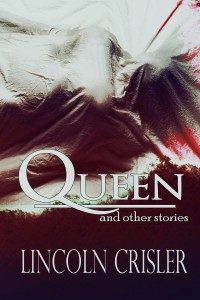 Queen & Other Stories collects the best of Lincoln Crisler's horror and dark science fiction, including several digital-only rarities and two brand-new pieces. The fourteen short stories and one novella include:
Tradition: A widow and a group of her late husband's friends take a stab at a cathartic hunting trip in the aftermath of the zombie apocalypse.
Old Stooping Lugh: Irish and Italian gangsters run afoul of an ancient Celtic deity in 1920's Boston.
Nice to Matter: The secret origin of a superhero cop's prostitute sidekick.
The Bad Place: A little girl discovers the secret behind her brother's disappearance–and an outlandish time-travel plan to save her from their abusive father that might do more harm than good.
Queen: A middle-aged woman in a frigid marriage discovers her experimental age-defying treatment may be something more than skin deep.
"…a very confident writer…his experience and self-assuredness radiate from every page." — The Nocturnal Library
"His talent with the mechanical craft of prose is undeniable, and his stories wield a distinctive, uncompromising edge…very often that 'bad thing' you fear so much waits just around the corner, hungry and lurking." –Shroud Magazine
find Lincoln online at lincolncrisler.info