Hardcover – Paperback – Smashwords – Kindle – Nook – iBooks – Kobo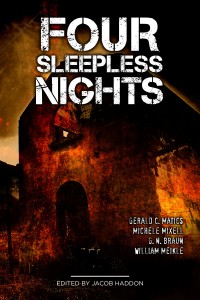 Four novellas. Dark visions; a hitchhiker; a secret government facility; a family secret.
Four sleepless nights for you to enjoy.
Featuring fiction from:
Gerald C. Matics

Michele Mixell

G. N. Braun

William Meikle
Double Vision – Gerald C Matics
Henry has been having problems with his sight. What his doctor calls 'floaters' instead seems to be something much more sinister.
End of the Night – Michele Mixell
It is the '60's, and a young girl leaves her past to find the ocean. She finds something else on the way first.
Chimera – G.N. Braun
The Cantrell Company has a dark secret on Chimera Island and when the alarm sounds, and the communications stop, a small group of elite soldiers is sent it to find out what has happened.
The Auld Mither – William Meikle
David returns to his father's estate after a brutal murder. David looks to finally rid himself of his father's legacy, only to find it went deeper than he knew.