Hardcover – Paperback – Smashwords – Kindle – Nook – iBooks – Kobo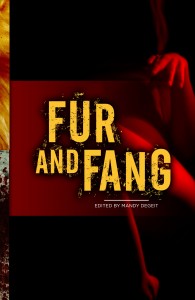 From vampires to yeti to local Maryland legend, these encounters are sure to stay with you long after the sun has come back up. What lies under the bed, in the ocean, haunting your nights? and, what is its intention to you?
Sometimes the only way to get over your fears is to fuck them.
Featuring stories from:
Lynn Lake
T. Fox Dunham
Dee Blake
Matt Kurtz
Jessica McHugh
Nica Berry
Max Booth III
Writer Bios
Mandy DeGeit – Mandy DeGeit, hails from Ottawa, Ontario, Canada. She lives with her partner Dan and spends most of their money on tattoos and kitchen gear. She has been published in numerous anthologies, ranging from horror to erotica and sometimes a blend of both. When she's not writing or thinking of what to write next, she's in the kitchen practicing her culinary skills and fattening up her friends. Fur & Fang has stolen her virginity as editor and while definitely it won't be the last. Find her online at mandydegeit.com
Nica Berry – Nica Berry is the author of numerous queer SF/F/H works with Loose Id, Carina Press, and Ellora's Cave. She's attended the Clarion SF/F Workshop, the Lambda Literary Retreat, and has an MA in Writing Popular Fiction from Seton Hill University. Visit her online at orossy.com
Dee Blake – Dee Blake is an emerging erotica writer whose work has been published on breatlessnights.com.  Her alter ego can be found online at chantellyb.wordpress.com
Max Booth III – Max Booth III is the author of TOXICITY, a Shakespearean tragedy with a lizard hooker. He dedicates his story about jerking off while strangling oneself to his parents. Thanks, Mom & Dad! You can find more of Max's work at TalesFromTheBooth.com.
T. Fox Dunham – T. Fox Dunham resides outside of Philadelphia PA—author and historian. He's published in nearly 200 international journals and anthologies. His first novel, The Street Martyr was published by Gutter Books this October, followed Professional Detachment, a literary erotica from Bitten Press and followed by Searching for Andy Kaufman from PMMP in 2014. He's a cancer survivor. His friends call him fox, being his totem animal, and his motto is: Wrecking civilization one story at a time. Site: tfoxdunham.com. Blog: tfoxdunham.blogspot.com. facebook.com/tfoxdunham & Twitter: @TFoxDunham
Matt Kurtz – Matt Kurtz is a lover of all things horror, thanking his mother for rearing him on Hammer movies and Universal Monsters. He grew up with Aurora monster model kits, Kolchak the Night Stalker, Fangoria, and Famous Monsters of Filmland. Being bombarded with such monstrosities at an early age, Matt became terrified of the dark. It was while cowering under the covers at bedtime that his mind leaped into overdrive, creating tales of terror he'd eventually spew onto the page decades later. These tales can be read in anthologies from Blood Bound Books, Evil Jester Press, Comet Press, Necrotic Tissue Magazine, and numerous others—all of which can be found on his author page at Amazon.com
Lynn Lake – Lake's writing credits include Hustler Fantasies, Leg Sex, Feminine Zone, A Hotter State, and stories in the anthologies Spank Me, Girl Fun, Sex At Work, Dark Desires, Purple Panties 2, Chocolate Flava 3 & 4, The Mammoth Book of Lesbian Erotica, and The Mammoth Book of Erotic Confessions.
Jessica McHugh – Jessica McHugh is an author of speculative fiction spanning the genre from horror and alternate history to young adult. A member of the Horror Writers Association and a 2013 Pulp Ark nominee, she has devoted herself to novels, short stories, poetry, and playwriting. Jessica has had thirteen books published in five years, including her bestseller, "Rabbits in the Garden,"  and the gritty coming-of-age thriller, "PINS." 2014 will see the release of three more novels, including the start to her edgy YA series "The Darla Decker Diaries." More info on her speculations and publications can be found at JessicaMcHughBooks.com.