by Kevin Lucia
Print – Kindle – Kindle Unlimited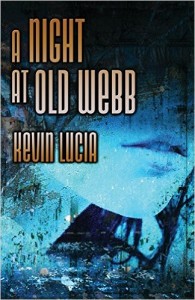 Old Webb, an abandoned grammar school just outside Clifton Heights, is the place to be late summer nights in Webb County. A gathering place for friends to be themselves, away from grownups who have forgotten what it means to be young and free.
The summer of 1992, Kevin Ellison spent his Saturday nights there like everyone else. Everything was running according to plan: a college basketball scholarship, school, all the things everyone expected of him.
Then he met a girl named Michelle Titchner, and everything changed…
"A Night at Old Webb" is an intimate tale of youth, wonder, attraction, and exploration of mystical places. Blurring the lines between memoir and fiction, it's an unsettlingly sweet and sad story about friends, new and old, standing around being young together."
Mercedes M. Yardley, author of Apocalyptic Montessa and Nuclear Lulu
Kevin Lucia – Kevin Lucia is the Reviews Editor for Cemetery Dance Magazine. His short fiction has appeared in several anthologies, and he is the author of Hiram Grange & The Chosen One, the short story collection Things Slip Through, the novella duet Devourer of Souls and the novella quartet Through A Mirror, Darkly.
Visit him at: kevinlucia.com or add him on Facebook at either facebook.com/kblucia or facebook.com/authorkevinlucia.