Save 40% by pre-ordering the Kindle edition of The Honey Mummy by E. Catherine Tobler!
Agents Eleanor Folley and Virgil Mallory are back!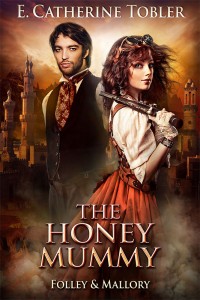 A mummy bound in honey.
An auction of archaic wonders.
An immortal link to the past.
Beneath the streets of Alexandria, Agent Cleo Barclay stumbled into a catacomb that changed her life. Her arms were taken, transfigured, and something remarkable was revealed–something that will stir an ancient life from the ashes of history.
A serpentine sarcophagus holds clues to Cleo's past and future. She enlists Eleanor Folley and Virgil Mallory to collect the artifact at auction, to unravel its mysteries and her own. When the sarcophagus falls into the hands of an enigmatic Egyptologist, they find themselves participants in his diabolical pursuits.
Drawn to Alexandria by their friend–and the temptations of a newly discovered ring–Folley and Mallory will be challenged as never before.