The Thing In The Ice by E. Catherine Tobler
Kaiju Revisited #4, Out NOW in ebook, Print coming soon!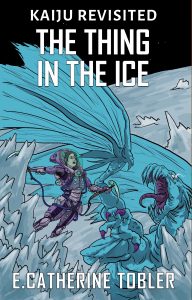 In the vast, black emptiness between Mars and Jupiter, Ceres was melting
Buried within the asteroid's core, Ceres Station provides water-ice for an ever-growing system of corporations and explorers, each intent on carving their names into the future of the galaxy. But no one anticipates the secret Ceres harbors.
Ice cutter Flit Navarro knows how to haul ice from asteroids and that Scrabble boards only have six Rs. She's never confronted mercenaries intent on claiming Ceres Station for themselves. She's never plummeted to the lowest levels of the station to confront a secret waking from the ice, a monster of ice and instinct.
But she's about to.